Basque Coast
Basque Coast, Spain
The Basque Coast is one of the most beautiful and captivating scenic drives in Spain. In terms of distance, the drive can easily be done in a few hours but this would leave no time for really explore and enjoy your surroundings. This drive can be enjoyed over a long weekend or, better yet, over a week to ten days. While some might enjoy renting a regular vehicle for this drive, the best way to enjoy comfort, convenience and save money is by renting a campervan, motorhome or RV instead.
Santander
While some travelers choose to begin in Bilbao or Santander, others make the most of their visit by starting in Santillana del Mar. This World Heritage Medieval Town is lined with cobbled streets and well maintained manor houses. The entire town is a National Monument and the nearby Altamira Caves allow visitors to take a glimpse into the local ancient history.
Along the coast to the west, you will also pass through smaller towns like Comillas, Santander, Potes and Fuente De. The latter is known for its lovely scenic cable car ride that takes you up into the magnificent mountains.
Santander to Bilbao
If you would like to make a stop and enjoy some time on the beach, make sure that you plan to stop in Laredo. Hereafter, your drive will take you through the Mena Valley and on to San Pelayo. Make sure that you stop for a bite to eat here and make the most of the lovely hospitality of the locals. If you choose to spend extra time here, you will be happy to know that there are some great hiking trails here which are ideal for stretching your legs after being on the road for some time.
If you prefer to make your way straight from Santander to Bilbao, you will really enjoy the coastal views.
Bilbao to San Sebastian via Guardia
Wine enthusiasts could take a detour to the medieval town of Guardia. The Rioja region is known for its top quality wine production as well as the home of the very first words written in Spanish. These pieces of writing can be viewed at the Santo Domingo de la Calzada Monastery.
After visiting Guardia, your next main stop back along the coast is San Sebastian. This really is the best place to stop, take a break and enjoy some of the local foods. Next up is the friendly fishing town of Hondarribia. If you are looking to enjoy some of the freshest fish you've ever tasted, this is the spot to do just that!
Ayala Valley, Pamplona and the Running of the Bulls
It is important to note that there are several detours and side trips that you can enjoy while in this area. So, while the main coastal drive is relatively short, there's much more to see and do than many might think. The Ayala Valley is located to the south of Bilbao and the Guggenheim Museum is also a popular attraction for visitors in this area. If you are visiting during the early part of July, you might even be able to plan a visit to nearby Pamplona which hosts the famous Running of the Bulls festival each year.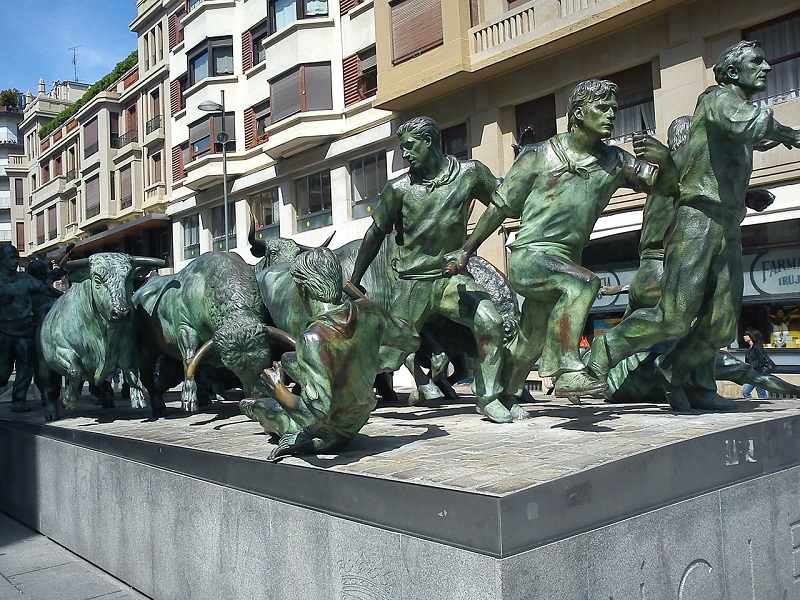 The amount of time you spend exploring the Basque coast and the activities you choose to enjoy will depend largely on your budget and how much time you have at your disposal. Planning ahead is, therefore, quite essential in order to really make the most of every minute in this delightful part of the country.