Trollstigen Road
Trollstigen Road, Norway
Geiranger – Trollstigen National Tourist Route
Add a touch of real excitement to your holiday in Norway by including the Troll's Footpath, or Trollstigen Road, to your motorhome rental or campervan hire driving itinerary.  This impressive feat of road engineering climbs up a steep mountain side, with a gradient of nearly 10 degrees and has no less than 11 hairpin bends to navigate along the way.  The Geiranger – Trollstigen National Tourist route links two of Norway's most visited attractions, the impressive Geirangerfjord and the incredible Trollstigen Mountain road and is one of the most scenic 106 km stretches of road that you will ever come across.  It winds its way through some of the most wonderful scenery the country has to offer, between Lake Langvatnet and the Sogge Bridge in Fjord Norway and rewards tourists with stunning views of mountains, waterfalls, fertile valleys and the deep fjords that intersect them.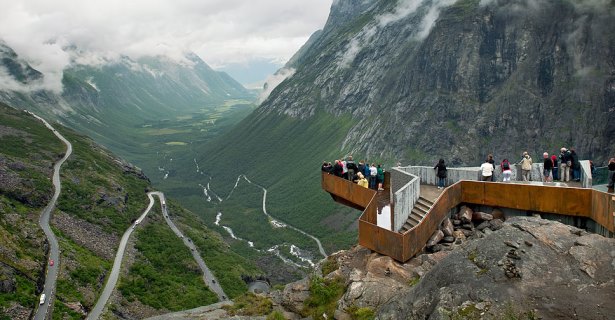 Trollstigen Mountain Road
The section of this popular Tourist Route known as the Trollstigen Road opens up the opportunity for visitors to drive up the remarkably steep mountainside to the highest viewpoints at Trollstigplataet where you have the most amazing views of the winding road you have just climbed.  The road is surrounded by the soaring mountains of Bispen (the Bishop), Kongen (the King) and Dronningen (the Queen, and is quite narrow, (however there are several places for overtaking, and the traffic flows quite well).  Unfortunately, the many hairpin bends make it unsuitable for buses longer than 12.4 metres. Most motorhome rental or campervan hire vehicles are shorter than that, but if you are undertaking this scenic drive please check.
There are several viewpoints and rest areas along the Tourist Route, with Ornesvingen offering the best views of the Geirangerfjord and the Seven Sisters Waterfall.  This outstanding area of natural beauty can also be explored on foot, and there are several short walks between the viewpoints where you can experience the marvellous fresh air and unparalleled views.  At Geiranger you can go on a fjord cruise to really see some of the impressive waterfalls at close range and there are also numerous hiking trails in this pristine wonderland.  For some extra excitement you can go river rafting or enjoy a canoe trip on the Istra River below the Trollstigen Road.   If you plan to stay in the region overnight to enjoy all the activities there are two good modern camp sites in the Isterdalen Valley below Trollstigen where you can park your motorhome rental or campervan hire.
The Trolls Road portion of the Tourist Route is closed in Winter, usually from around October to May, depending on the amount of snow that has fallen, so do check before you set out.