Southern Scenic Route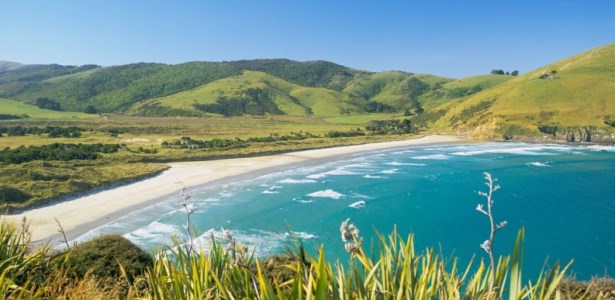 Southern Scenic Route, New Zealand
New Zealand is a gem of a country when it comes to natural beauty and the great outdoors.  One of the best ways to see the more far-flung corners of the country is from behind the wheel of your Motorhome or camper, and there are several dramatic Scenic routes that you should not miss.  One of these is the outstandingly beautiful and dramatic Southern Scenic Route which will take you far from the crowds and into the very heart of the South Island countryside.  The route starts in historic Dunedin and then proceeds to Invercargill via the wild and wonderful Catlins Coast.  From Invercargill the route turns inland and your drive will take you to some of the countries' most beautiful spots in Manapouri and Te Anau before finally ending in Queenstown, a must on every visitors list of must-see places.
Dunedin is deserving of a few days of exploration before you start your scenic route; this town is full of amazing examples of several different styles of architecture including revival Gothic, Georgian and Victorian. If you love nature you can take an eco tour to penguin, albatross and seal colonies or enjoy a scenic cruise in Otago harbour.
Leaving Dunedin the route takes you south to the Catlins, an area of outstanding natural beauty where you can experience the untouched coastline, surf on one of the many great beaches, walk in the forests and see plenty of resident wildlife in their natural habitat.  You can easily lose yourself along this stretch of coastline for several days, which is what makes it so ideal for a Motorhome trip where schedules can be tossed out of the window if you find a perfect spot to explore.
Further along the south coast you will come to Bluff, a charmingly remote fishing port famous for Bluff Oysters (in season) and the ferry terminal for a side trip to Stewart Island which houses New Zealand's third-largest National Park, just brimming with birds, plants and marine life and some great hiking trails.
From Bluff the route continues to Invercargill and then on to the little arty town of Riverton before you head for two of the most beautiful lakes in the country, Manapouri and Te Anau where you could spend a few days enjoying the many water-based activities as well as the wonderful views before continuing your drive to the Fiordland National Park, one of the highlights of the route. From here you can make a side-trip on the spectacular Milford Rd to Milford Sound, before continuing your southern scenic drive to Queenstown.
The best times of year to undertake this scenic drive are spring and autumn when the crowds are sparser and there is no snow on the higher mountain roads.