Catania Motorhome Rental, Sicily
Compare RV Rentals and Campervan Hire in Italy
Catania is Sicily's second largest city rising at the foot of – and literally shaped by – Europe's tallest active volcano, Mount Etna. Built from lava after the 1669 eruption, Catania is a 'grey' city of Baroque architecture built upon foundations as old as 8th century BC. Catania is rather compact and easily explored by foot, but its location by the Ionian Sea and proximity to more than a dozen of Catania motorhome rental or campervan hire campsites make it an ideal base for a Mediterranean road trip in southern Italy.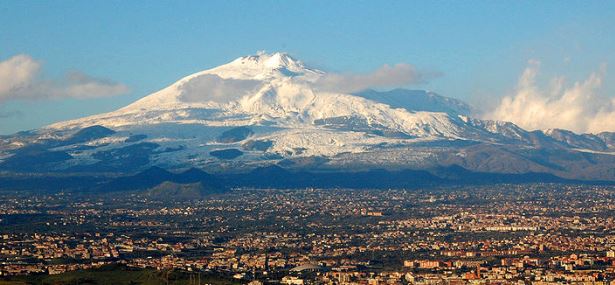 What to see in Catania
Italy has more than its fair share of UNESCO World Heritage Sites, and Sicily has six of the country's 48, with one in Catania, making the latter's Baroque city centre an excellent introduction to the entire island of Sicily. Luckily, there are plenty of well-equipped campsites within 40 minutes of the city center where you can safely park your recreational vehicle or RV rental in Catania while you explore the city's numerous Baroque churches, Roman ruins, and Greek amphitheaters.
You don't have to see all of the more than 100 churches, chapels, Roman baths, amphitheaters, 'palazzi' and 'castel' before you dig into a 'salumeria' for salami, panini, pastrami or 'tavola calda' ('hot bites' made with cheese and meat). Perhaps you can throw in a seaside break into your daytime itinerary at La Plaja just 2 miles away by campervan hire in Catania, or sneak in some operatic interlude into your nighttime activity at Teatro Massimo Bellini where young crowds congregate after hours.
Explore the Aeolian Islands and Mount Etna in Sicily
Sicily is well-suited for travel by Catania motorhome rental because of its numerous, agreeably furnished camping facilities and proximity to mainland Italy as well as outlying islands like the Aeolian group.
From Catania, Mount Etna is less than 1 hour and a half to the north by camper hire in Catania. To make the most of your trek – and for your own safety – sign up for a guided climb up to the summit (3,323 metres above sea level) to see the famous volcano's stark landscape shaped by rivers of lava. Skiing is possible if you visit in winter, but the peak can be chilly even in summer, so appropriate clothing is advised.
Drive your motorhome rental in Catania down to Milazzo, less than three hours north of Mount Etna, where you can park your RV rentals in a camping ground within the city as you take the hydrofoil to the volcanic and UNESCO-listed Aeolian Islands. There are several car ferries that leave for Lipari, the largest of the islands, several days a week. If your plans are flexible, you can make Lipari your base as you further explore the nearby islands like Stromboli (from where 'strombolian' eruptions are named after) to see from a safe distance magma spurting from the cone.
Sicilian Wine and World Heritage Trails
Mount Etna and the Aeolian Islands are just two of Sicily's UNESCO World Heritage Sites, with the rest scattered about the islands until you come full circle at Catania. From Milazzo, you can follow the world heritage trail by Catania motorhome rental counter-clockwise, passing by the Sicilian capital, Palermo, where the Mafia are part of Palermo's social fabric as its jumble of past influences, left behind by the Greeks, Romans, Arabs, Normans and Byzantine, are part of its cityscape and collective consciousness.
Soak in Palermo's unique blend of cultures and cuisine before boarding your campervan rental in Catania and joining the horde of day trippers at Agrigento's Doric temples; Villa Romana del Casale's luxury villas decorated with mosaic; Syracuse's 7th century BC Rocky Necropolis; and Val di Noto's wine route and late Baroque towns (of which Catania is part) rebuilt after the 1693 earthquake.