Livingstone 4WD Camper Rental
Book & Compare Livingstone 4WD Campervan Hire Online
Located about seven miles from Victoria Falls, Livingstone – named after David Livingstone, the Victorian missionary explorer and the first European to set sights on Victoria Falls – and its surrounding parks are filled with incredible outdoor attractions, and this is one reason why traveling by Livingstone 4WD campervan hire from Britz Motorhome Hire and Caprivi Car Rental is such a great idea.
If you're a bird aficionado, start traveling the countryside by visiting the Mosi-oa-Tunya National Park; one of the best bird-watching parks that all of Zambia has to offer.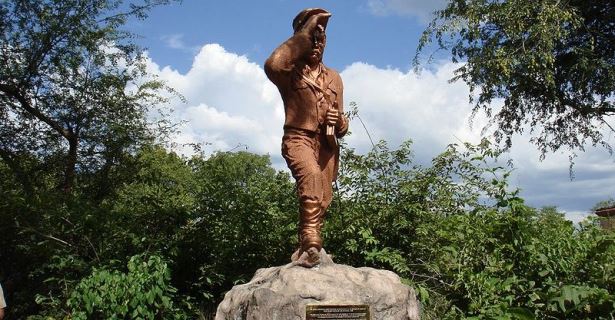 See Victoria Falls by 4WD Campervan Rental
If you're looking to travel by campervan or motorhome rental, you can't find a better, more adventurous location than setting off by 4WD campervan hire in Livingstone.
It's also a wonderful place to look into the history that has occurred between Africa and European settlers and explorers.
Zambia is also becoming increasingly known as Africa's most beautiful and preserved safari spot; so you can be sure to have a productive and memorable wildlife-viewing experience while at Mosi-oa-Tunya.
Even better, you can see resident animals like antelopes, warthogs, giraffes, zebras and elephants from the comfort of your 4×4 campervan rental; as there are no predators within the park.
Once you've had your fill of the parks' wildlife, take a short drive in your Livingstone 4WD camper hire or hike to the falls located within Mosi-oa-Tunya, otherwise known as Victoria Falls.
Victoria Falls features a 1.7-kilometer curtain of water with rising mists that can be seen miles away.
The UNESCO-listed falls is actually the entire Zambezi River plummeting in a single vertical drop; before the river moves on its winding course to the Indian Ocean.
Adventures on the Zambezi River in your 4WD Camper Hire
A short hike below the Victoria Falls brings you to lookout points to view the Batoka Gorges. If you'd like to pump more adrenaline into your adventure, there are several bridges to bungee-jump from.
There's also the possibility of abseiling in the gorge, boating and fishing in the river, or watching the whole scenery unfold from a helicopter.
This same area also houses the Victoria Falls Field Museum; which offers a look into the archaeology and geology of Victoria Falls.
While Victoria Falls is admittedly the star of Livingstone's attractions; it is just one of the many natural playgrounds for the innate adventurer.
The town itself lies along the Zambezi River; home to a multitude of fish species that lures anglers from around the world.
Kayaking, running the rapids, or simply sitting back in your 4×4 Livingstone campervan hire to enjoy the riverside view, are just a few of the activities that you can engage in in Livingstone.
Spot the 'Big Three' in your 4WD Camper Rentals
When booking your Livingstone 4WD campervan hire or motorhome rental in Zambia, be sure to get a nice sturdy one, ready for a wildlifesafari.
Because Zambia is best known for the quality of their safaris; as well as the relatively unspoilt landscape that is home to big game; you can start off from this township to other national parks located within the vast Zambezi Basin.
The sparsely populated West Lunga National Park, about seven hours to the north by Livingstone 4×4 camper rental; features smaller but no less stunning waterfalls, gorges, rapids, limestone caves, hot springs, and underground rivers and sunken lakes.
About the same distance from Livingstone to the west is the Sioma Ngwezi National Park covering an area of 5,000 square kilometers.
If you are keen to tick off Africa's 'Big Five', take your Livingstone 4WD campervan hire here and spot the big three – elephant, lion and leopard – along with a host of other safari characters like the hippopotamus, impala, zebra, eland, sable, giraffe, wild dog, cheetah, hyena and exotic-sounding animals like roan, tsessebe, sitatunga, kudu and duiker.