Patchwork Parkway, Utah, USA
Route 143 – Parowan to Panguitch
The Patchwork Parkway Utah or Route 143 is located in Utah's southwest and takes you on an amazing US scenic adventure for 55 miles (89km). This route takes drivers upwards from 6,000 feet to 10,000 feet to an amazing plateau with unforgettable views. It follows the ancient migration routes that were used by Native Americans as they moved from their desert winter settlement to summer gathering and hunting lands. When enjoying this drive, it is best to get an early start and take your time. Consider traveling from Las Vegas or Salt Lake City by motorhome, campervan or RV for added comfort and the convenience of having your own kitchen and washroom facilities.
The history of this route
The Patchwork Parkway Utah route is technically called Scenic Byway 143 but more appropriately referred to as the Patchwork Parkway. This is due to a significant historic event that took place many years ago. Early pioneers were on the brink of starvation when they made their way across the plateau by placing their quilts on the deep winter snow. This is known as the quilt walk and, it's not difficult to imagine how grueling it must have been.
Main stops along the way
As you begin your journey in Parowan from Interstate 15, you will pass through a number of significant communities on the way. These include Brian Head, Panguitch Lake as well as your destination in Panguitch and Heritage Highway 89. Brian Head is the highest elevation community in Utah and is home to recreational activities throughout the year. It is also home to the southernmost ski resort in Utah.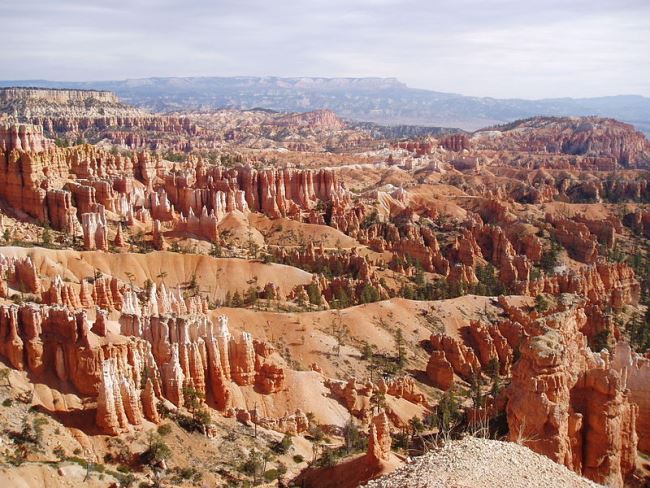 Brian Head Peak is the highest part of the plateau and, from here, you can see for over one hundred miles in every direction. The Bryce Canyon National Park forests and the Zion National Park's rock formations are both visible from here. You will also be able to visit the Cedar Breaks National Monument located on the western rim of the plateau. From here, you can enjoy views towards the Great Basin Desert in the distance.
There are also some amazing geological deposits in the area. On top of the plateau, you can see the top steps of the "Grand Staircase" which starts all the way at the bottom of the famous Grand Canyon (100 mile south of where you are). In the summer, you are in for a real treat with all the wildflowers in bloom.
As for Panguitch Lake, this is a popular fishing town and anglers flock here from miles around. Panguitch is the first pioneer settlement in the county while many refer to Parowan as the mother town.