Northumberland Heritage Coast Drive, England
Starting just north of Newcastle-upon-Tyne the Northumberland Heritage Coast Drive in the UK is an extremely popular and memorable driving experience. Whether it's nature you seek or local history at it's best, you will find it all along this fine coastline. Although the route is less than 70km in length, there are a number of great places to stop along the way and really let all of your senses soak it all up. There's nothing better than the freedom, flexibility and comfort of a campervan hire, motorhome or RV rental. Not only will you enjoy the extra leg room while driving but, depending on the exact model you select, you can benefit from having your very own mini kitchen and bathroom on the go! There's also no need to check in at hotels when your home is on wheels.
Amble to Belford and see Alnwick's Castles
Your adventure along the coast begins in Amble. Before you leave, make sure that you stock up on all the supplies you need and don't forget to take some time to enjoy yourself and take a walk around before you depart. If you have enough time, you might enjoy a boat ride, other water activities or perhaps a gentle stroll around the marina and a bite to eat.
Warkworth is your first main stop and this is where you will encounter one of many castles along this route. In fact, this area is home to the highest number of castles in the UK! You can even enjoy a round of golf if you fancy or simply enjoy a meal at one of the local restaurants and watch the people pass you by.
The drive will take you past Alnmouth and through Lesbury before you reach Alnwick. Again, the castles here are the main attractions. If you have time to visit a few, you will need to decide between Alnwick Castle, Dunstanburgh Castle, Chillingham Castle and Edlingham Castle. Each of which very distinct and appealing for their historical value and aesthetic appeal. Some are quite close to Alnwick itself, whereas others are a bit of a drive away so plan accordingly.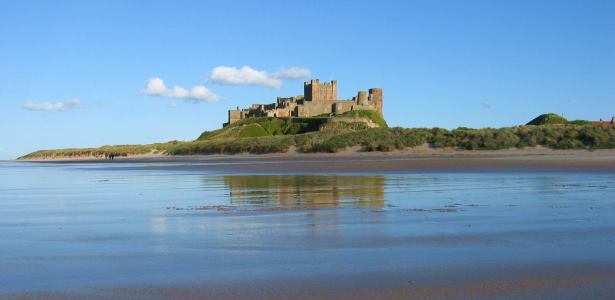 If you like, you can also make your way out to visit Bamburgh Castle and plan a trip out to Holy Island for a visit to Lindisfarne Castle.
The road then leads you on through Warenford before you reach Belford. Take a break here and enjoy a walk around. If you would like to learn more about the local history, make sure that you visit the Belford Hidden History Museum before you hit the road again.
Belford to Berwick-Upon-Tweed and the Scottish border
As you leave Belford behind, you will travel in the direction of what was once the Haggerston Castle. Today, all that remains are the tower, rotunda and stable block.
You will then drive through Scremerston and Tweedmouth before arriving in Berwick-Upon-Tweed where there is an abundance of things to see and do. Don't miss out on such sights as the Elizabethan Walls, Paxton House and the Town Hall and Town Gaol. The Barracks and Main Guard are also highly impressive and all of these attractions will both educate and entertain the imagination.
From here, you can most certainly continue along the coast into Scotland and visit places like Eyemouth, Dunbar and more. How far you explore hereafter is entirely up to you!