Rondane National Tourist Route, Norway
The Rondane National Tourist Route takes you on a 75km journey from Sollia Church to Folldal in an area that forms part of the southernmost wilderness of Scandinavia. There are plenty of places to stop along the way and, while accommodation here can be reserved, there's nothing quite like the freedom of a motorhome, campervan or RV rental. Travelling from Oslo, where you can pick-up your motorhome rental, there are a number of camping areas along this route so everyone can enjoy the comfort and convenience of traveling in a mobile home.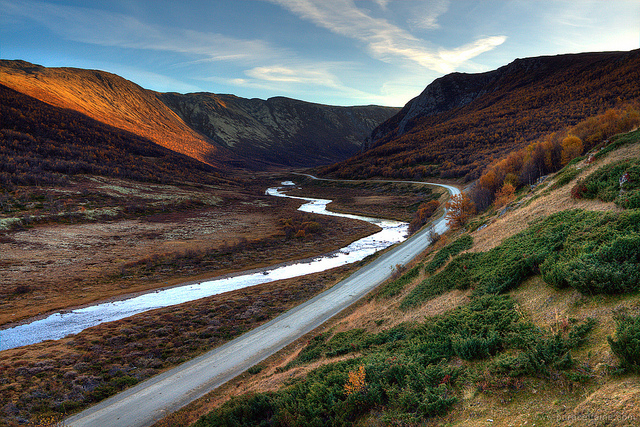 What to see along the way
The blue mountains and the Rondane National Park are two of the main features of this scenic drive. It's important to note that this national park, established in 1962, was the very first in Norway.
As you drive, you will notice several points designated for stopping. Here you can simply take a break from driving, enjoy a meal or snack and even take a walk.
At Sohlbergplassen you can enjoy amazing views of Lake Atnjoen and the mountains on the horizon. This is the precise view that Harald Sohlberg depicted in the painting "Winter Night in the Mountains".
At Strombu you will find a full rest area that includes services, information boards, a quaint shop, long-term parking and an indoor area along with a roof terrace. Many people enjoy parking here and embarking on hikes that lead through the Rondane Mountains.
The former car park at Atnbrufossem has been upgraded to a small rest area. It is located close to the Atnbrufossem River Heritage Museum and you can also frequent the visitors' centre, rest rooms and exhibition rooms. At the mouth of Lake Atnsjoen you will find the museum which is filled with many interesting displays including sawmill and hydropower station.
Apart from these attractions along the way, the natural beauty of the mountains and valleys will keep you company for the duration of your trip.
In the national park you will see a wide variety of plant life from mountain birch to cranberries and various types of fungi. If you're lucky, you may even spot a wild reindeer! Other animals that you might see include fox, mink, lynx and hare. There is a small population of bears as well. The lakes and rivers are home to plenty of trout and the skies are filled with various birds including grouse, gerfalcon and the golden eagle.
Activities for all
From this tourist route, you will find it extremely easy to access the local mountains. There are plenty of marked trails to follow as well as fun summer activities like cycling, riding, fishing and paddling. If you plan your trip during the winter, you can enjoy skiing and other winter activities here so there is always something to do!
If you would like to enjoy some fishing, you can obtain a licence which holds validity for Atnavassdraget (which includes all tributary rivers). These can be purchased at various local shops.
The Folldal Mine and Mine Village is very well preserved and allows visitors the opportunity to get a closer look at buildings and equipment that dates back between 1748 and 1993. The museum and National Park Centre hold a number of exhibitions and a rail trip takes visitors into the mine itself for a unique tour.