Highway 60, Algonquin Park Corridor, Canada
King's Highway 60, otherwise known as Highway 60 or the Algonquin Park Corridor, runs for a distance of just over 250 kilometres in the province of Ontario, Canada. This highway takes travellers through the Algonquin Provincial Park and offers superb scenery all the way. Since it runs through the provincial park, you can be sure to find developed campgrounds along the way. This road is perfect for a short or long road trip from Toronto or Montreal and is best enjoyed from the comfort and convenience of your RV, motorhome or campervan.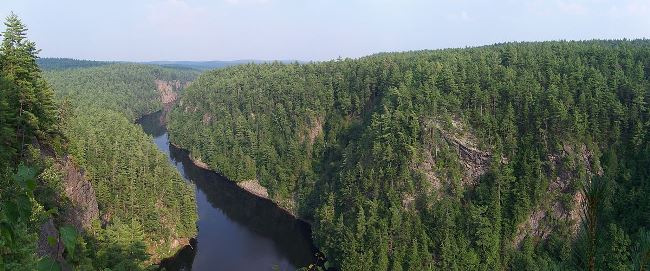 Algonquin Park Corridor
The main attraction on this route is undoubtedly the Algonquin Park which stretches over a distance of 7,725 square kilometres. The park features gorgeous lakes, lush forests, rivers, cliffs, bogs and beaches. With all the fresh air you could hope for, it's no wonder city slickers enjoy making the most of the outdoors by setting up camp here. Speaking of camping, it's important to note that you do not need any kind of permit to travel through the park via Highway 60 but you do need one if you are planning to camp here. Fishing is allowed provided you possess the correct permits.
This area is a National Historic Site and is home to a wide range of fauna and flora. There are 53 different species of mammals, 272 bird species, 31 amphibian and reptile species, 54 fish species and 7 000 insect species that call these parts home. In addition, you will be surrounded by over 1 000 different plant species and more than 1 000 different types of fungi.
While camping and taking in the nature that surrounds you, you can explore any of the several different trails, education programmes and an informative visitor centre. The local Algonquin Logging Museum is also a highlight for visitors to these parts. It is located near the east gate and is open seasonally. On a 1.3 kilometre trail you will enjoy such sights as a recreated logging camp, interpretive panels, logging equipment, a steam-powered tug and a video presentation.
No matter when you visit this park, it always proves picturesque and a wonderful escape from your usual daily routine. In the summer the leaves are abundant and green while autumn brings about an amazing change and the views are filled with colour. During the summer months, there are several summer camps hosted in this area so you can expect a vibrant and fun atmosphere with plenty of visitors.
Depending on the season and weather conditions, other activities include horseback riding, mountain biking and cross country skiing. So, whether you're up for plenty of physical activity or simply wish to enjoy the outdoors and the smells and sounds of nature, this drive is perfect for everyone. Since it's not a long route, you also won't need to spend too much time behind the wheel and you will have more time to enjoy your surroundings instead.