Cabot Trail, Nova Scotia, Canada
Nova Scotia's Cabot Trail takes drivers on a loop through northern Victorian County and Inverness County on the beautiful Cape Breton Island. The total distance of the Cabot Trail scenic drive is just under 300km and, given the nature of the road, is completed at a slow pace. Regular vehicles can complete this drive (without stop) in about 5 hours.
If you are planning on enjoying the drive by campervan or motorhome rental, you will be happy to know that buses and RVs regularly make this trip. The nearest depots to pick up your RV or Motorhome Rental up in Montreal, Canada with a scenic drive through Quebec and New Brunswick; or alternatively in Boston, USA for a drive along the Maine and New Brunswick coasts. Both spectacular drives can then combine with the Cabot Trail, Nova Scotia, Canada. One way rentals can be arranged.

What you need to know before you begin your drive
As mentioned above, the Cabot Trail, Nova Scotia is a slow drive and there aren't many overtaking opportunities. Be patient with slower vehicles (like buses) and be prepared to use lower gears along this route. If you get stuck behind a slower moving vehicle, you might prefer to make a stop somewhere and enjoy something to eat while enjoying the views. That way, the slower vehicle will be well ahead of you and, when you return to the road, you will no longer be stuck behind them.
If you or any of your fellow travellers has trouble with driving on the edge of a steep drop-off, then you should travel in a clockwise direction. This will ensure that you are on the inside lane and not too close to the edge of the road.
Just as there aren't many overtaking opportunities along this route, there are also no ways of getting off this route once you begin your drive. You will either have to continue all the way along the loop or find a suitable spot to turn around (which can be tricky to say the least).
Points of interest along the drive
There are a number of lovely sights and landmarks along the way so be sure to plan your drive and stops accordingly on the Cabot Trail, Nova Scotia.
In Baddeck, the Alexander Graham Bell National Historic Site is most significant. The Gaelic College of Celtic Arts and Crafts can be found at St. Anns. The fishing village of Ingonish allows access to the Cape Breton Highlands National Park and is noted as being one of the first settlements on Cape Breton.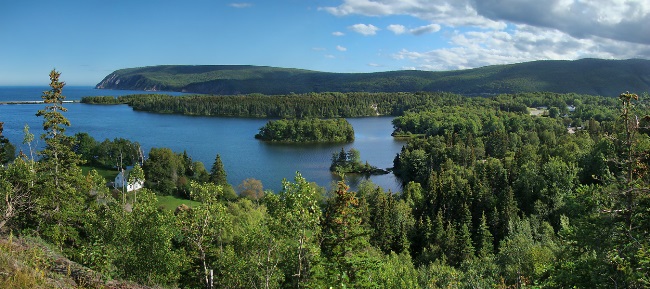 Belle Cote is another lovely fishing village and is located at the mouth of the Margaree River.
The Acadian fishing village of Cheticamp is known for its fiddle music and hooked rugs. It also allows access to the Cape Breton Highlands National Park.
Pleasant Bay marks the halfway point of the drive and is a popular spot for whale watchers.
Dingwall is yet another quaint fishing village and Cape North is the northernmost point of this trail. Visitors often frequent the North Highlands Community Museum and the Arts North Gallery of Cape Breton Crafts while they are here.