Banff National Park RV Rental Vacation in Canada
Campervan and Motorhome Holidays in Banff National Park
Banff National Park is 145 km (90 miles) west of Calgary in Alberta, Canada. There are motorhome, campervan, and RV rentals at Calgary, as well as at Edmonton and Vancouver. The Park encompasses 6,641 km2 (2,564 sq. mi) of Rocky Mountain terrain boasting unparalleled mountain scenery on a Banff National Park RV rental vacation. People were living here 12,000 years ago, but the arrival of railroads gradually displaced them.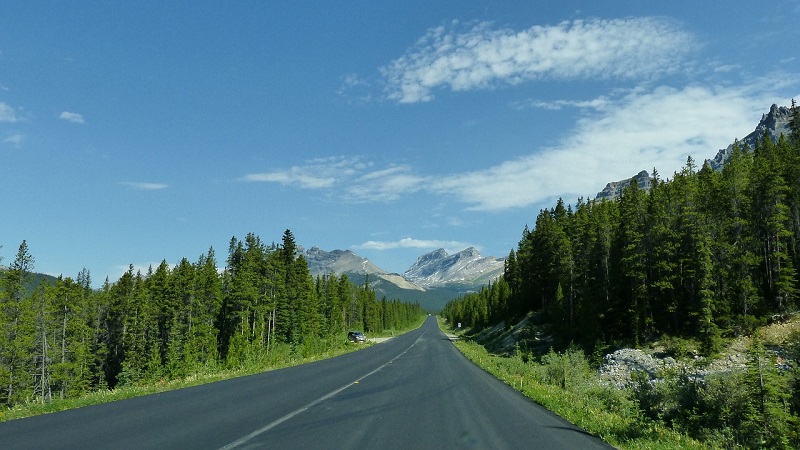 A Touch of History and What's Available in Banff
While the early attractions were bathing in hot water springs, Banff became an all-year-round attraction with the arrival of the first Winter Carnival in 1917. Jasper National Park shares a common border to the north, with Yoho and Kootenay National Parks to the west and south respectively
The town of Banff is conveniently located for camper van, RV, and motorhome enthusiasts. It offers a wide variety of stores, and medical professionals if the need arises. Banff hosts a variety of annual festivals including the Rocky Mountain Music Festival (April), Banff World Media Festival (June), and Banff Mountain Film Festival (November).
Favourite Camping Spots in Banff National Park
While Banff may boast some of the best hotels in the world, there is simply nothing better than waking in glorious nature after a peaceful night's sleep in your 'home on wheels'. These are far too numerous to mention here, but you will find great spots to overnight at Two Jack on the Minnewaka Lake, Johnson Canyon with walks to waterfalls, and Lake Louise Campground that boasts 189 trailer, and 216 tenting sites.
Banff National Park is a perfect place to visit for those in love with nature. Some 53% of it comprises dense forest, with 27% above the treeline in the alpine eco-region. Here are open meadows and occasional glaciers. A wide variety of 56 mammal species inhabits these wild spaces.
Wildlife in Banff National Park, Drive Gently for Great Game Spotting Opportunities
Drive slowly through the right areas and you could spot grizzly and black bears, cougar, lynx, wolverine, red fox, coyote, and timber wolves. And see elk, mule deer, and white-tailed deer in the valleys. Bird lovers rejoice in sightings of golden and bald eagles, as well as predatory merlins, ospreys, and red-tailed hawks wheeling high in the sky.
Banff is Alberta's most visited holiday destination. While there is no permit to enter, a park pass is necessary if not driving straight through. Take care to observe game crossing points and avoid startling animals unnecessarily. The Trans-Canada Highway has fragmented the landscape, but game still follow their traditional routes.
You will look back of your visit with pleasure after you return your RV, motorhome, or camper van to Calgary. If this this does not suit your plans, we have drop-offs at Edmonton, Vancouver, or to Whitehorse in the Yukon.