The Alcan Highway, Canada to Alaska
RV Rentals, Campervan Hire & Motorhome Rental on the Alaska Highway
To take the notion of a scenic drive to a whole new level; come and explore the Alcan Highway, which links Alaska in the United States to British Columbia, Canada.  Stretching 2395km from Dawson Creek in northern British Columbia, to Fairbanks Alaska, this is definitely no Sunday afternoon drive; rather expect this to be the ultimate in road trips and a once-in-a-lifetime must-do.  Along the way you will see some of the most incredible examples of natural beauty; including mountains, glaciers, rivers, coastlines and wildlife.  There are a host of attractions and activities to discover and driving the great Alaska Highway by motorhome rental, campervan hire or RV rentals is an excellent way to enjoy the experience.   The route is open all year round, but can be tricky in winter and a winter drive with a rental motorhome should only be undertaken experienced drivers.
Dawson Creek to Watson Lake
Starting from Dawson Creek in British Columbia your route will take you due north to Fort Nelson, originally a fur trading post prior to the building of the Alaska Highway.  Visit the Heritage Museum and enjoy a game of golf at the Poplar Hills course or hike some of the trails.  In winter these all turn into good areas for cross-country skiing.  Look out for wildlife wherever you go.   From Fort Nelson continue to Watson Lake just over the Yukon border, which is a great place to park your RV rental for a couple of days and enjoy all the excellent outdoor activities.
Yukon and Kluane National Park
From Watson Lake you continue north to Whitehorse, a large city that manages to keep a village atmosphere.  Once again, there is plenty to do here for a day or two, from wildlife viewing to rafting or cycling.   Next stop is Haines Junction, at the edge of the Kluane National Park World Heritage Site.  You have to stop here for a few days!  From Haines Junction you can go on glacier-viewing flights and many other locally operated tours into some of the most scenic parts of the Yukon.  Look out for grizzly bears, moose, wolves and mountain goats as you drive around this scenic wonderland.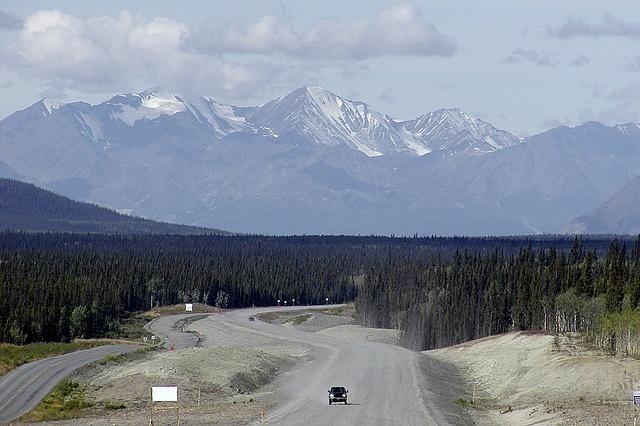 Akaska USA
Now you are nearly in Alaska, USA!  Make your way along the spectacular St Elias mountain range to Tok, known as the "Dog Capital" of Alaska; there breeders and mushers congregate and if you visit in March you could see the Race of Champions sled dog race.  Tok is a paradise for those who love outdoor pursuits!  Hiking, birding, fishing, float trips are all possible here.   From Tok the last section of your drive will take you to Fairbanks; which is your gateway to further exploration in Alaska, but the end of your great Alcan Highway adventure by RV rentals.