Eyre Peninsula Drive, South Australia
For anyone looking to get away for a three to four days, the Eyre Peninsula Drive is the perfect escape! This coastal route is as scenic as it gets and is ideal for those who don't have too much time for a holiday or are seeking a long weekend away. The roads are sealed so you can use a regular vehicle to navigate this route. That said, if you don't want to have to book in and leave your hotel room at certain times, you could travel in a campervan, motorhome or RV rental instead. This way, you will have more than enough space to take food along for the ride. If your RV has its own fridge and stove for cooking, what could be better than a delicious breakfast while enjoying the ocean views?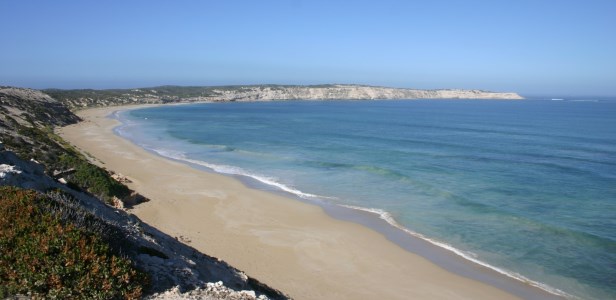 Adelaide to Port Lincoln
If you are beginning your drive from Adelaide, you need to travel in the direction of Whyalla. This is the gateway to the scenic Eyre Peninsula and it is also home to an impressive oyster industry. If you enjoy oysters or looking to try them for the first time, this is the place to do it! You will then continue via Cowell and on to Tumby Bay. It is the perfect place to stretch your legs as you enjoy a walk along the stunning sandy beaches and swim in the pristine waters. 18 of the Sir Joseph Banks Group of Islands form part of the Sir Joseph Banks Group Conservation Park and the waters in this area are protected by the Sir Joseph Banks Group Marine Park. Pay attention and you might very well spot dolphins, sea lions and various native bird species.
Port Lincoln to Coffin Bay and Baird Bay
Port Lincoln is located on the southern tip of the peninsula and is just half an hour from Tumby Bay. It is located in Boston Bay which is one of the world's largest protected natural harbours.
Port Lincoln is an ideal place to stop in order to really explore the southern portion of the peninsula. Activities like sand dune driving, sailing, fishing, kite surfing and even shark cage diving are all popular here. Of course, you could just as well enjoy the beaches and take some time to simply relax.
If you decide to grab a bite to eat while you're here, you won't be disappointed with the wide range of fresh seafood. You should have no trouble finding western king prawns, bluefin tuna and southern rock lobster on the menu!
Next up is Coffin Bay where you can enjoy the Oyster Walk that takes you past seaside boats and shacks as well as the Kellidie Bay Conservation Park lookout. If you're up for some fishing fun, be sure to stop in Elliston. There is a walk leading down from Locks Well Beach to a prime fishing spot but you should note that the staircase has 282 steps!
Next up is Venus Bay followed by Baird Bay. Here you can sign up for a guided tour to swim with dolphins and sea lions!
Baird Bay to Ceduna
Before you reach Ceduna, there are a few stops that you simply cannot miss! Streaky Bay is known for its amazing beaches and seafood. There is also an impressive five meter long replica of a Great White Shark at the Streaky Bay Shell Roadhouse. Amazingly, it was caught with just a rod and reel!
Murphy's Haystacks is just 40m from Streaky Bay and these ancient granite rocks are estimated to have formed over millions of years.
Your next stop will be in Ceduna which plays host every year to the local Oyster Festival called Oysterfest. It takes place in October and the town really comes to life around this time. There's plenty of wine, entertainment and art as well as a carnival and don't forget the oysters and other seafood!
Your journey will conclude in Ceduna from where you can return your motorhome rental to Adelaide, or carry on across the Nullarbor Plain to Perth, Western Australia!